WE'RE BACK!
We hope all our customers, old and new, are safe and well.
Having temporarily closed our business on 24th March, we began a PHASED re-opening on 1st June. As a result of the on-going Covid-19 situation, the following temporary changes to our business are necessary:


• Our Reception and Showroom will regrettably NOT be open to visitors.

• Our phone lines will be open 10.00am to 3.00pm Monday to Thursday.

• Due to the very large number of enquiries we have received over the 10 weeks we have been closed, please bear with us while we gradually work through these and respond.

• For any new enquiries, please email rather than phone, if at all possible.


We thank you for your understanding during this difficult time and we wish you and yours all the best and hope you can stay safe. We have been in business for 32 successful years and we look forward to serving you for another 32 years!

Thank you and best wishes


The Cushion Refilling Co. Team
Visiting our Cushion Refilling Showroom
Wherever you live in the U.K. we are able to offer our Professional Cushion Refilling Service by collecting and delivering your cushions from your home.
However, if you live close enough to visit us, not only would you be made very welcome but you would benefit in many ways. Plus… the kettle is always on standby!
We have invested heavily in creating a 3,000 sq ft permanent Showroom at the front of our premises, with an 80 ft 'Customer Viewing Gallery' to enable you to see our team working hard (hopefully!) and view all of what our busy family run company does.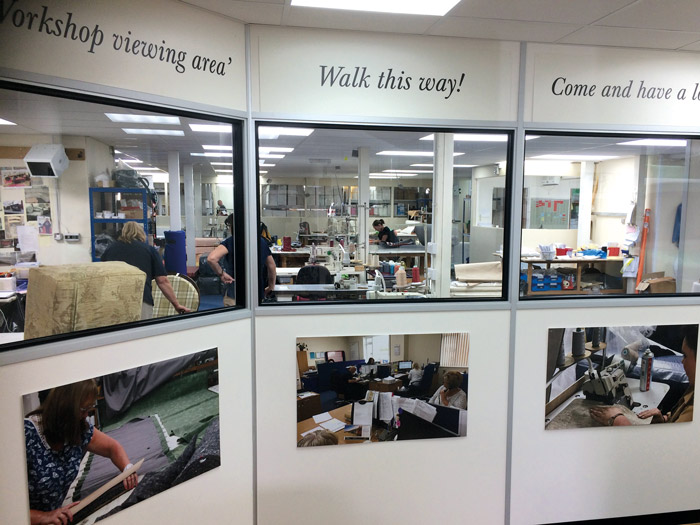 Why not take a VIRTUAL TOUR of our Showroom and Workshop by clicking on the image below…
The main reason potential customers make the trip to see us is that we have in our Showroom numerous types of fillings, for you to sit on and try out for comfort.
None of our friendly staff are paid on commission, or have targets to meet, so you can be assured that you will be shown all the options open to you and prices quoted, all in a friendly, professional and no-pressure manner.
If you decide to go-ahead with our Cushion Refilling Service, then you can leave your items with us and collect them when completed, or if you are not local, they can be sent to you by courier at no extra charge.
So, if you're able, please come and see us! You'll find no high street parking problems, but you WILL find a warm welcome, a cup of tea or coffee and as much or as little information as you wish from our knowledgeable, non-commission, friendly staff.
The Cushion Refilling Co.
Block 11, Cater Business Park, Cater Road,
Bishopsworth, Bristol BS13 7TW
Tel:
E-mail:

Due to the Pandemic our office hours will temporarily be Monday to Thursday, 10.00am - 3.00pm, and unfortunately our Showroom will NOT be open to visitors.