Our incoming phone lines are open 10.00am to 1.00pm and 1.30pm to 3.00pm, Monday to Thursday only, however, we are all here working full, normal hours, i.e. 9.00am to 5.00pm Monday to Friday, so if you need to email, or leave a voicemail, we will gladly respond promptly.
Types of Cushion Refilling Fillings
Regardless of whether your Cushions were originally filled with FEATHER, FIBRE or FOAM, we have the appropriate fillings, skills and experience to professionally solve your problem.
Most types of cushions will have invariably been round and plump looking when new and of course we understand that you will wish to regain this sumptuous appearance as well as improve their comfort.
We are able to replace Feather or Fibre cushions with new Feather Cushions, or a far better option is to replace these with our specially selected Seat and Back foam.
You will often see the centre of your cushions should be much deeper than the border. So just adding a flat piece of foam would mean that you would either end up with a baggy centre to the cushions, or a filled cushion that will no longer fit into the furniture framework. This is a common problem we see when we are asked to 'sort out' cushions that a customer has had unsuccessfully refilled elsewhere.
We use our vast experience of converting cushions from feather or fibre to foam, as well as those that were originally filled with foam, as we've done for hundreds of customers over 24 years.
We have been able to create a proven solution to this common problem and are very proud of the numerous testimonials from delighted customers that confirm we know what we are doing! Click here to read some…
As you will see on the 'Our cushion refilling process' page, we go to a great deal of effort to create the correctly 'domed' filling that many cushions require. We then wrap them in our heavy Dacron Wadding which gives the look and feel of Feather or Fibre cushions, but unlike the originals will bounce back to shape, for years to come!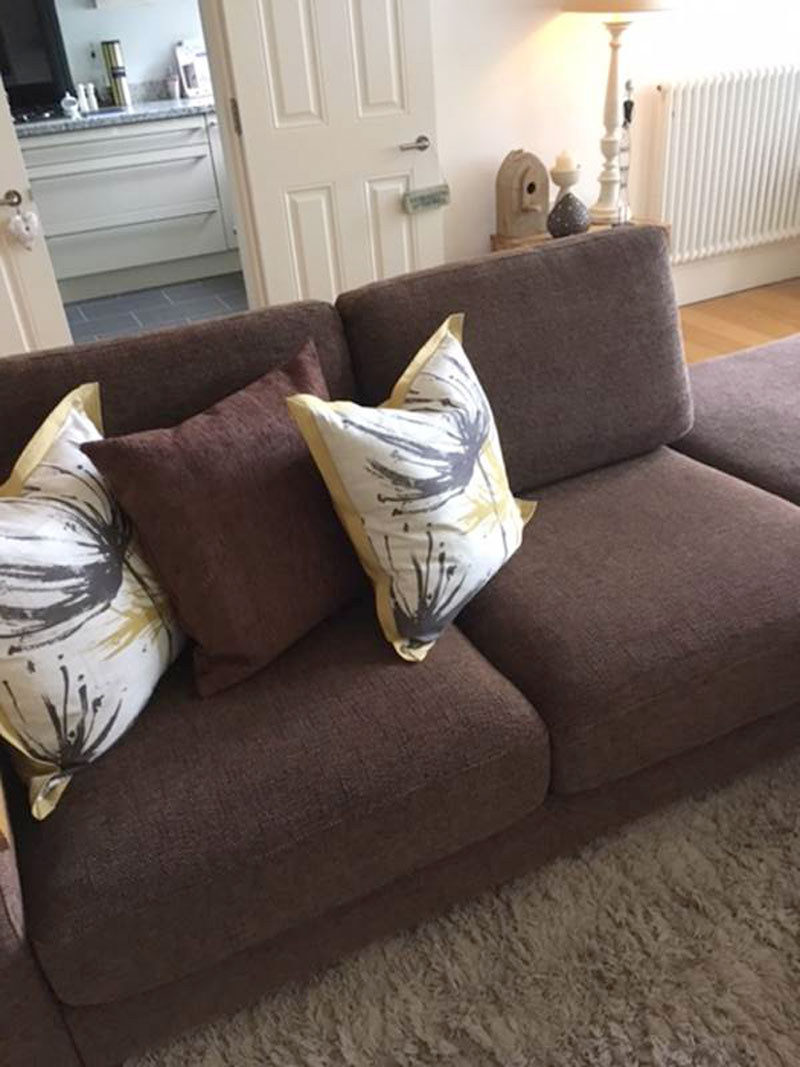 Using our best type of foam and our Professional Refilling Service carries a 5 YEAR GUARANTEE.
We don't offer a cheap job, but a proper, professional job.
We have a vast selection of foams available and 24 years experience in advising customers from all over the U.K. as to what options are open to them.
By knowing the correct questions to ask, including the timeframe you expect to keep your furniture, the sort of 'feel' that you would like your cushions to have etc., our friendly and knowledgeable staff are able to make informed suggestions.
Please note that none of them are paid commission, or have targets to meet; they are just here to advise you through the options and costs of what we can do for you.
Give us a call on Freephone , click here to use our online form, or drop us a line at to find out more, including an approximate quote.
We promise you a friendly, professional response.