Our incoming phone lines are open 10.00am to 1.00pm and 1.30pm to 3.00pm, Monday to Thursday only, however, we are all here working full, normal hours, i.e. 9.00am to 5.00pm Monday to Friday, so if you need to email, or leave a voicemail, we will gladly respond promptly.
Cushion Refilling Co. Customer Reviews & Testimonials
Please find below a selection of testimonials and reviews from customers that we have already helped with transforming their furniture cushions…
"We just wanted to say how pleased we are with our cushions. Thank you to all concerned. Excellent service throughout."
Syd & Jennifer Bugg
Lowestoft
"Wonderful service and very friendly staff made our experience of getting our very poor condition and uncomfortable sofa cushions to a state that was better than when we purchased our sofa. We can't thank you enough for your advice and service and we highly recommend that anybody who needs their own sofa cushions refilled use yourselves above all other companies."
Colin & Teresa Brown
Worcester
"I'm writing to let you know how pleased I am with my refilled sofa cushions, thank you so much! My sofa now has a new lease of life and looks and feels amazing."
Sue Skull
Bristol
"We visited this shop for 6 replacement dining room cushions and a replacement cushion for our 3 piece suite. The lady who served us was extremely helpful and professional. We ordered the cushions and only waited just over a week to have them back. The dining room cushions are great we no longer feel the wooden chair underneath. The cushion from the 3 piece is even better than when we bought the suite new. The cushions were returned by carrier which saved us another trip to Bristol. An excellent company to deal with."
Barry & Beverley English
Bridgend
"Very happy with our new seat cushions. Such a vast improvement on the feather filled ones. Excellent service and very good value. Thanks again."
Janetta Templeton
Cheltenham
"Perfect amazing 5 star company. Great communication all the way through the process and they are very knowledgeable and helpful. We did have to send our cushions back as we weren't quite happy with them. More our fault than theirs and Dave was so helpful and understanding. Having a courier pick up the cushions, is dreamy. We spent a year procrastinating about getting them refilled. Finding The cushion refilling company online was a godsend. You won't be disappointed."
Sam Isaak Djavit
5-star Google Review
"Just sharing photos of the Snuggler Sofa you kindly refilled the cushions for. Absolutely delighted. Thank you for such a great workmanship and service."
Lorraine Graves
Surrey​
"Absolutely amazing service. Friendly and efficient from start to finish. The cushions are excellent and have made such a difference from the old ones. Great advice and turnaround time too."
Mels Bleaken
5-star Google Review
"I am emailing to say how pleased I am with the complete process of cushion refilling, and have attached a photo of my smaller sofa. From the first enquiry through to the return of the filled cushions, it was an easy procedure. Packaging (even a roll of tape included), courier, and your staff gave me confidence that the job would be done quickly to a high standard and to my specification. Sarah was very knowledgable and helpful. From collection to return, my six seat and back cushions were only away for two weeks including a Bank Holiday. I don't have a 'before' pic but can assure you the cushions were sadly creased and saggy. My sofas are now tidy and firm, like new again for a fraction of the price of new furniture. I would certainly recommend your company and use again myself. Thank you."
Pam Hamblin
Weymouth
"Dave and team have been amazing to us. They were patient and considerate to get the job done exactly right. I really appreciated this. Our sofa now looks better than ever and is so comfortable. The right balance between soft and firm."
Eryka Isaak
5-star Google Review
"Can I just say a huge thank you for sorting out our sofas. The service you provided from start to finish was fantastic. I've been testing them out over the last week & they are amazing!!!! I honestly can't believe how comfortable they are... the new seat & back cushions are so soft & our sofas feel like they're brand new again. I definitely DO NOT miss having to plump up the cushions every day - that used to be such a work-out! Thank you so much!"
Pam & Ray
Bristol
"I wasn't sure what I needed as my sofa was very old (it was my mother's) and the cushions were basically pancakes. From the onset Chelsea was brilliant and guided me through the whole process. It could not have been easier and I am delighted with the result. It looks like new and is super comfy. If you want a sofa facelift this is the place to go!"
Diana Stephenson
5-star Google Review
"I have just received my cushions and they are wonderful. I can't remember them being like this even when the sofas were first purchased. I would just like to say thank you – please also pass on my thanks to the person responsible for actually refilling the cushions. The service I received from start to finish was excellent. You really do stand out from the crowd. It is so nice to actually be able to speak to a real person who knows who you are! Once again thank you so much."
Andrea Hancock
Kent
"We had a great experience with this company. Their customer service is excellent, really friendly and helpful on the phone and the whole process is very straightforward. We took their advice on the filling, and are really happy with the result. I would really recommend this for anyone with an uncomfortable sofa."
Maureen Oswald
5-star Google Review
"We have just had the four seat cushions of our 20 year old sofas refilled, and are absolutely delighted - the sofas look like brand new. We thought you might like to see the finished seat cushions in place. Thank you to all the lovely, helpful and patient staff we met. You set the standard that other firms could learn from!"
Elizabeth Spallanzani
Bristol
"Well, the Bee's Knee's! We took time to do our research and came across this company. Seemed ok with good reviews, so we took a run up to Bristol. Caroline was knowledgeable and very helpful guiding us through the options. She also agreed a nice discount (thanks) and we left our four large sofa cushions and had a trip home via Cribbs Causeway. Exactly a week later the nice man from TNT delivered them all complete in excellent packaging, and at no extra charge. The finish and quality is what we wanted, what we paid for and what we expected. We weren't disappointed. Very well done to all concerned. Would I recommend them? Well I have no other experience to judge against but frankly I think you would struggle to do better. Yes I would recommend them."
Mike N
5-star Google Review
"Thank you everyone for refilling my cushions. They are so much more comfortable than they were before and I am more than pleased with the end result. You certainly have my recommendation to anyone who asks."
Anne La Porte
London
"The cushion refilling company is reliable, helpful and swift to return your cushions which was a big ask two weeks before Christmas. Would recommend highly. My sofa has never been so comfortable."
Liz Dickson
5-star Google Review
"Hello everyone at the cushion re-filling com I love my new couch. It really does feel like a new one. It's super comfortable and I definitely don't have to plump my once feather cushions. And there is so much more support on my back. Thank you so much."
N. Maquire
Cumbria
"I just wanted to let you know that we are so pleased with the eight cushions that you have done for us.The workmanship is fantastic and the two settees look like new again. I would also like to say how impressed with your customer service – it was A* and we will be using your company again in the very near future for our other cushions. Its so refreshing to come across a company who is so good – I couldn't find fault. Thank you so much."
Mrs Marshall
Devon
"Dear Cushion Refilling Team, Thank you so much for doing such a good job of refilling our sofa cushions. We are delighted."
J. Cosgrave
London
"This is the large sofa in our conservatory which is now a real pleasure to sit on thanks to the great work of your team. This is the smaller of our two conservatory sofas looking great with its new, comfortable cushions. A great job and not nearly as expensive as I expected. Thank you Everybody."
Chris Fitzgerald
Cornwall
"I am very happy to enclose the photograph (above) of the sofa with the newly filled set cushions. They look great.""
Mike Rogers
North Yorkshire
"Thanks for doing such a fantastic - & incredibly fast - job on our sofa cushions. This was the second time we'd come to you to breathe new life into our sofas, & both times you worked miracles! We couldn't be happier with the end result."
Richard Peel
Gloucester
"Dear Cushion Refilling Team, I'm sorry it's taken a while to email to say thanks for our cushions. We are all sitting comfortably now and loving our sofas again. I can't believe we slouched for so long and now they're back to their former glory it's lovely."
Mrs R Tufft
Cheshire
"Many thanks – brilliant service absolutely as described and cushions have transformed the sofas into looking (& feeling!) like a new purchase. Delighted and would unreservedly recommend."
L. Grote
Colchester
"Another suite looking like new, plumped to perfection."
Mr and Mrs Goodson
Melton Mowbray
"Dear Cushion Refilling Company. Here are the pictures of our new sofa cushions refilled. We are delighted with them."
Glyn Owen-Hughes
"Please find attached picture of my newly filled sofa cushions! feel Free to use as you like - I'm very happy with them!"
B. Colwell
London
"Thank you! My cushions have arrived and I am absolutely delighted with them! The sofa looks and feels like new, in fact it is far more comfortable than it ever was. We live a long way from your Showroom and I was a little nervous about proceeding via phone and email. However, I have to say that I have been consistently impressed by the helpfulness and friendliness of every single member of your team that I have spoken to, and..... the whole process was expertly managed. I have no hesitation in recommending you - so pleased I went ahead!"
E. Thomas
York
"Thanks for refilling our cushions, an excellent job!"
D. Duane
Bristol
"Many thanks for a very efficient job. The new seat cushions for my sofa are perfect and make such an improvement to the overall look of it. Good advice & service from start to finish."
J. Smith
Stow on the Wold
"Just to say I received my seat cushions back today. Absolutely thrilled with them. Thank you. Also thank you to David for keeping me advised throughout the time they were with you. Fantastic customer service and workmanship. I will not hesitate to recommend you."
P. Roberts
Buckinghamshire
"Thank you very much for returning my cushions and for doing such an excellent job. I found your service to be high quality and good value for money. Staff were courteous, patient and willing to talk me through the different options. Having had the cushions refilled by yourselves and the sofa and armchairs professionally cleaned by a local firm I've now got a 15 year old suite that is practically as good as new for a fraction of the cost of buying a replacement. I'd encourage anyone thinking about going down this road to take the plunge! I've attached a couple of photos of the end result."
J. Simpson
Lancaster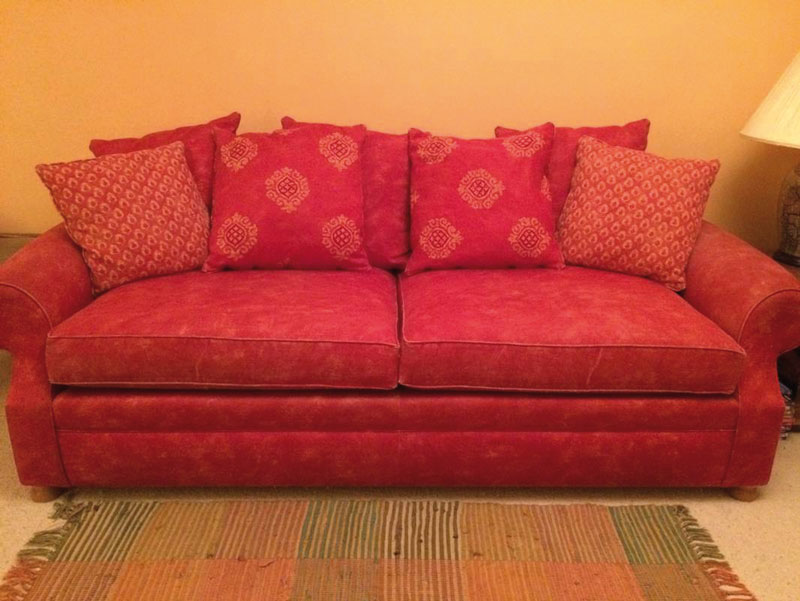 "My children used to make my old sofa look terrible. It was beyond plumping. It was not comfortable. We are so happy with our new scatter cushions and sofa cushions. Our sofa is transformed. What's more it's always comfortable and does not require plumping. It took a couple of days to get used to the new filling - but now it is so comfortable. Many thanks for your great service."
S. Frenchay
Edinburgh
"We recently had some replacement foam sofa cushions from you via your collection service. The new cushions are great, but I particularly wanted to say thank you for the excellent service from start to finish, especially from David, the gentleman that I spoke to on the phone. He was very helpful and dealt patiently with my lack of knowledge. In a world so quick to complain, I feel it is important to say thank you for good service and I would be more than happy to recommend you."
C. Tordoff
Leeds
Give us a call on Freephone , click here to use our online form, or drop us a line at to find out more, including an approximate quote.
We promise you a friendly, professional response.